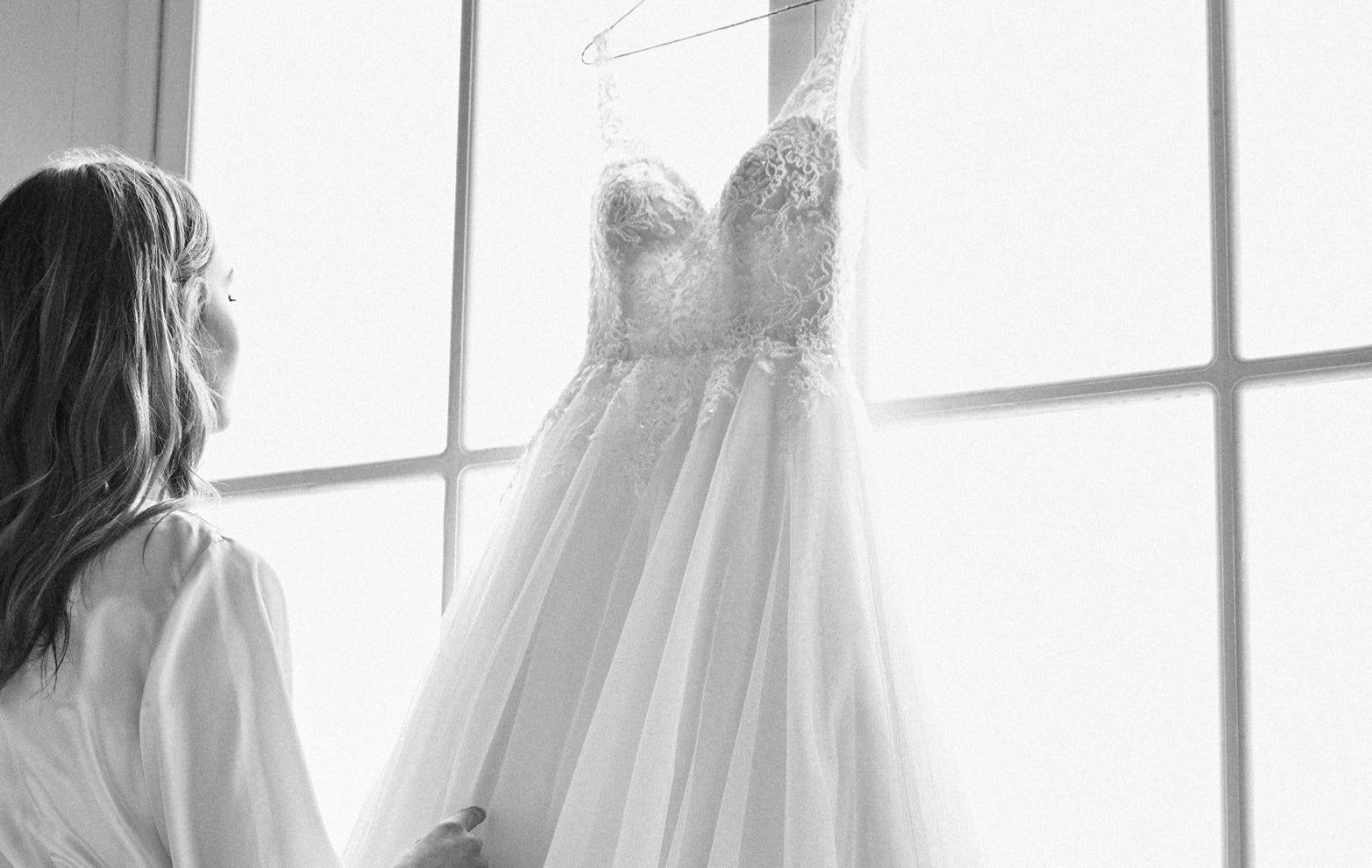 Ditch or Donate? Uses For Old Wedding Dresses
It's an important decision, and one many brides put off for eternity.
But life has moved on and your old wedding dress is taking up precious space in your wardrobe.
The Time Has Come!
Heeding the call, here are some uses for old wedding dresses.
Wear It To A Party!
Been invited to an all-white summer party?
Save your money for a designer bag and get your old wedding dress altered. If you got married in a Boho style wedding dress, the right bling will transform it into a flowing party look. For other styles, consider lopping off the train or even making the dress shorter.
White is the easiest color to change with dying, but not all fabrics will work. (Natural fibers are best.)
Rather than trying it yourself, which may end in tears, we suggest taking it to a professional for advice.
Make It Into A Child's Dress
Does your daughter/niece/young cousin have a special event coming up? Making your old wedding dress into a child's party dress for her to earn lots of brownie points.
With plenty of fabric to play with, your dressmaker (or even yourself) can easily make a simple party dress for a child.
What little girl wouldn't love to wear 'mummy's wedding dress,' and show off to her friends?
Hang it On The Wall!
We don't mean the entire dress!
But fragments of your old wedding dress can work in lots of charming and meaningful ways; as a border around wedding photos, or even placing pieces of lacework or embroidery in a window box frame, perhaps together with dried flowers from your bouquet!
Keep It For Prosperity
Who knows what the future will bring?
Your daughter maybe thrilled to have the opportunity to wear your wedding dress to her own wedding. So store it away properly.
Choose a pretty box or garment bag made of natural fiber. Then carefully fold your old wedding dress between sheets of white acid-free tissue paper and put it in a dark, humidity-free place.
To create a love-filled time capsule, pop in some wedding photographs too!
Wear It To Wedding Anniversary Celebrations
Recreating your wedding photos on wedding anniversaries is trending. Certainly, we can't think of a better way to celebrate enduring love.
Wedding dress alterations are of course key to making it work, as only the blessed among us keep the same bodies for decades to come.
Ask your dressmaker what she can do.
Sell It!
The trend for vintage and pre-loved won't stop any time soon. Maybe there is a store that sells pre-loved clothes in your area?
If not, there are dozens of online platforms where you sell your wedding dress for a good price. Use the funds to buy yourself something nice, or a romantic weekend away for you and your partner.
Donate it and spread the love!
From thrifts stores to charity auctions, there are many ways to spread joy and the life of your wedding dress for a good cause.
Pronovias partners with Brides Do Good, a UK-based non-profit that empowers young girls with greater access to education.
Simply return your used wedding dress to any Pronovias store. Once it is sold by Brides Do Good, we match the sales price, so your donation is doubled.
Find out more about the great work done by Brides Do Good.
Top Tip: Whichever option you choose, we strongly suggest first having your old wedding dress cleaned – either professionally, or by spotting any stains and marks yourself with mild soap and warm water or solvent, depending on the fabric.