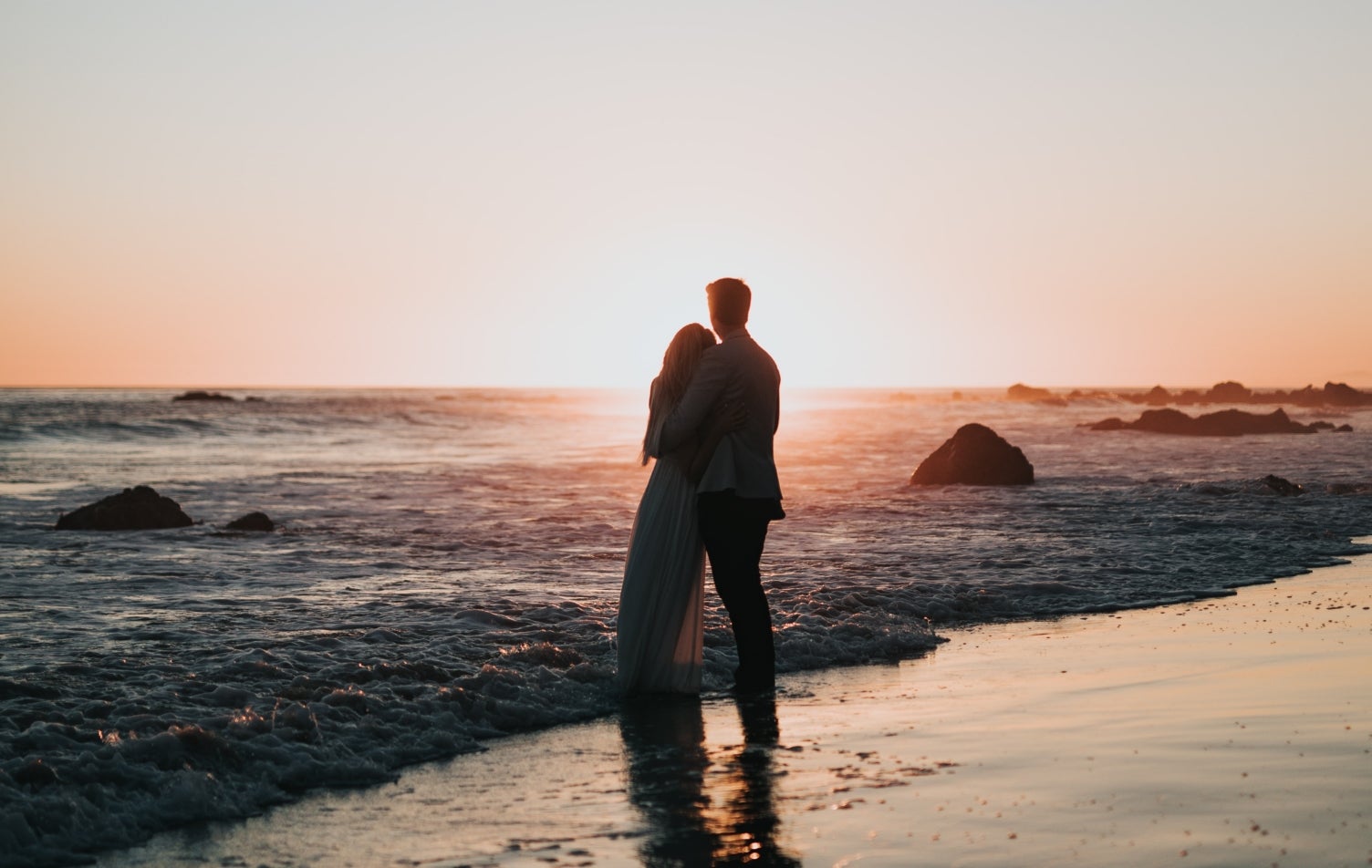 What's not to love about a beach wedding?
The rolling waves, the light sea breeze, a chance to skinny dip with your partner when all the guests have gone home…
But if you are planning to tie the knot seaside there are a few sartorial issues to consider.
Firstly and foremost the weather. Even of you plan your ceremony for the height of summer, there is a chance that a sea breeze may whip up and an extra layer is needed.
Secondly volume. Said sea breeze can play havoc with full skirts in lightweight fabrics – and you don't want any embarrassing knicker shots popping up on your Instagram wedding feed.
Thirdly, movement. Beach weddings often imply a little more walking around than indoor weddings, where the bridal party is driven everywhere by chauffeur. So soft layered fabrics with a little bit of weight that move with you are key.
With these in mind, lets get inspired by beach wedding styles from WHITE ONE!
Boho Wedding Dresses For Beach Weddings
Boho is without a doubt the most popular style for beach and outdoor weddings. Not sure what Boho (or 'bohemian') is? Think lightweight. Think free-spirited. Think Stevie Nicks and her gypsy romance.
The great thing about Boho is that is easily finished with a floral crown or headpiece (in fact sometimes a veil can be an overkill) and strappy sandals or flats. Or why not a pair of designer espadrilles? They would look fabulous with Mandrake, a lacey boho wedding dress with a flouncy bodice. Gennaria is a sea-goddess wedding dress with a corsage bodice also exposes your shoulders, and legs as well with a sensual front split.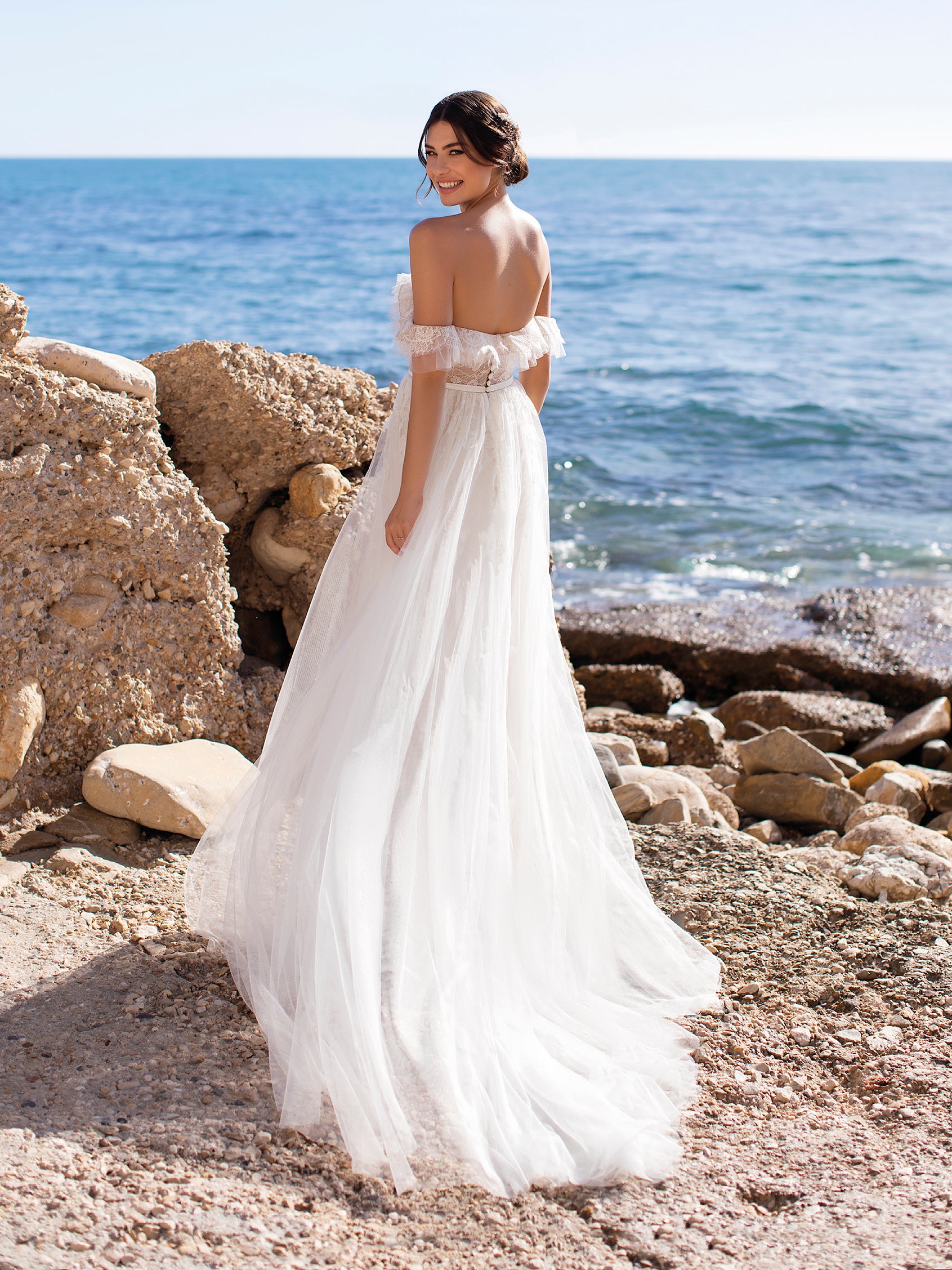 Long-sleeved Wedding Dresses For Beach Weddings
It's happened to all of us. It's a perfect beach day, but by late afternoon a sea breeze comes rolling in. It's not cold, exactly, but it does make you wish you had bought an extra layer.
If you are expecting changeable weather, or perhaps getting married in the spring, a lightweight wedding dress with barely-there sleeves will keep you comfortable all day long at your beach wedding.
With its loose Juliette sleeves in transparent tulle, Periwinkle is just perfect for a beach wedding. Willow has the same affect, but with even wider, puffier sleeves for a statement look.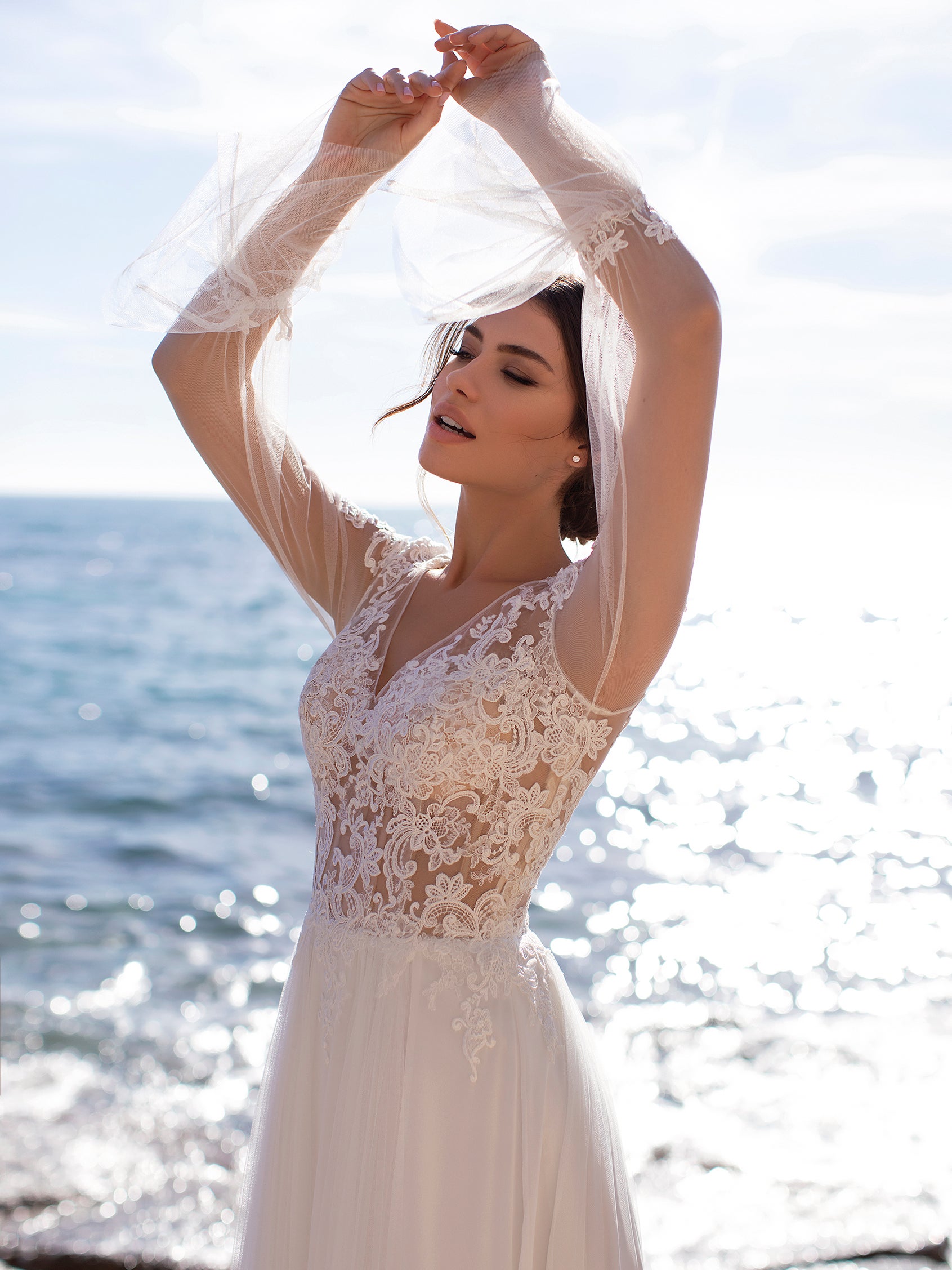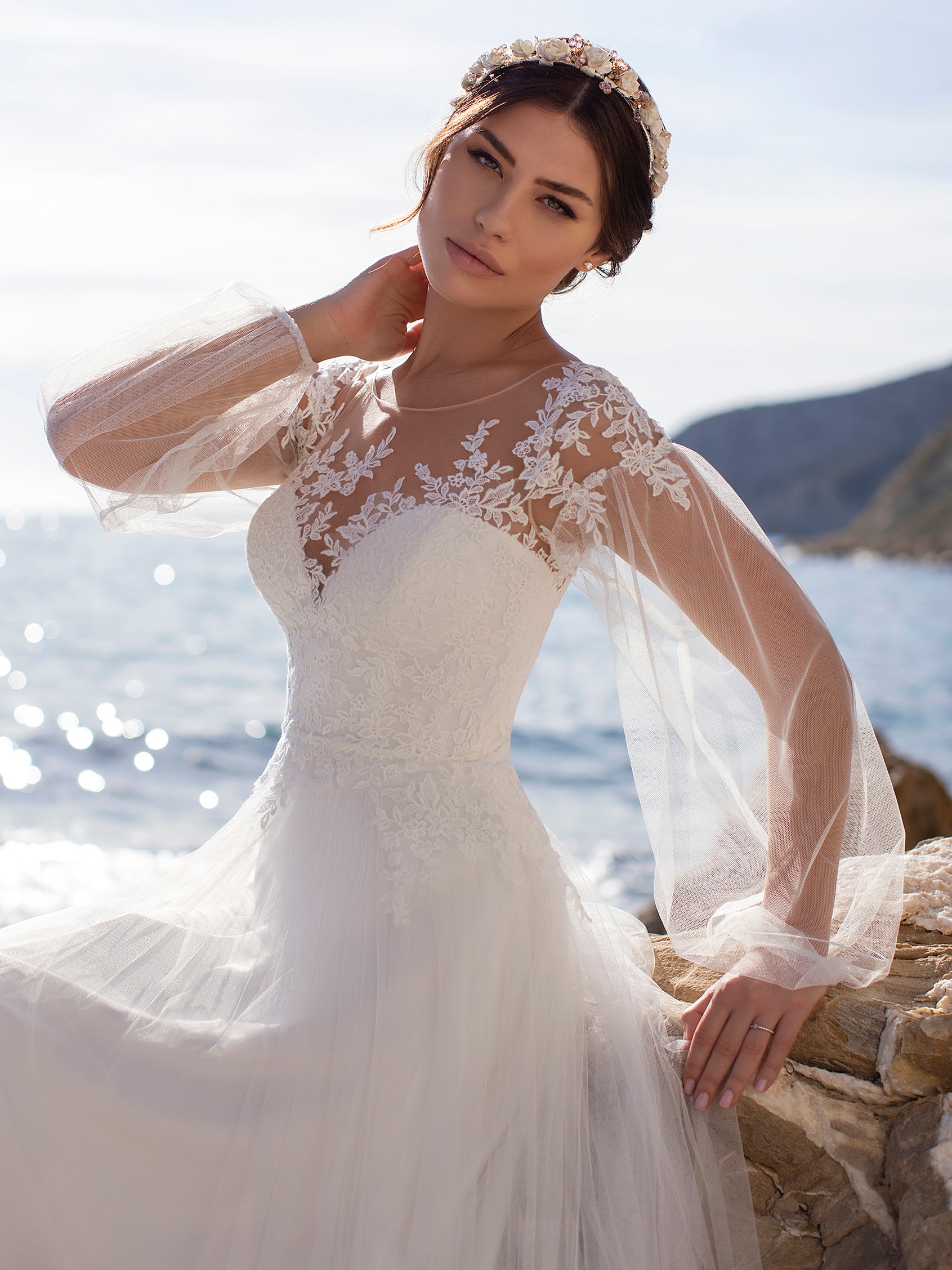 Bridal Jackets and Bridal Capes for Beach Weddings
Did we say that bridal veils don't always work at beach weddings? It depends on the type wedding of course; at a formal marquee on a cliff top they would be fine, but they can look a little out of place if you are planning a more casual affair by the shore.
A fashion-forward alternative to the veil is the bridal cape. Gossamer capes add an extra ethereal layer and romantic volume. Another way to keep goose bumps at bay and glamor-up for the evening's celebrations is a short bridal jacket covered with a bit of glitter.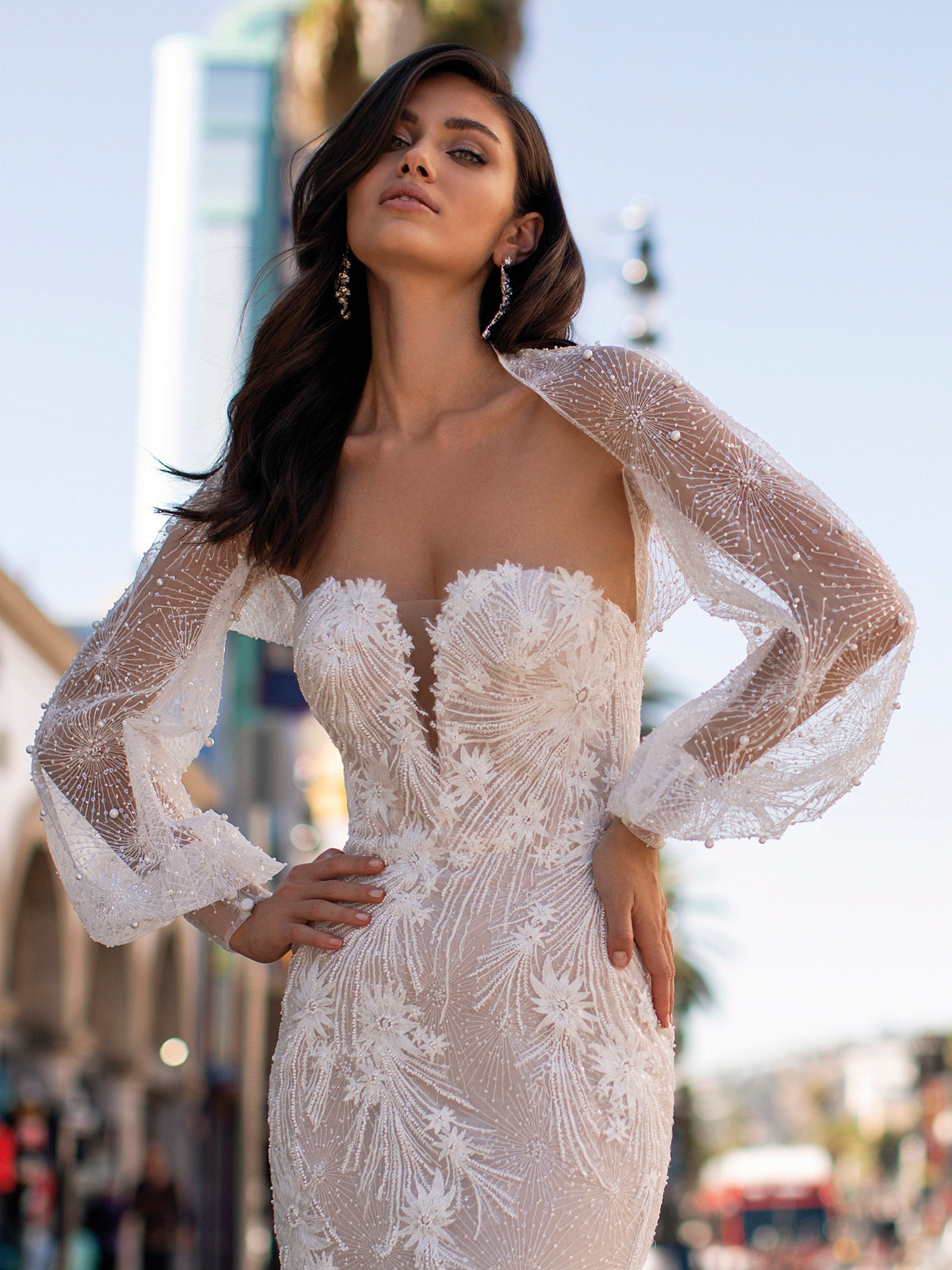 And the finishing touch for your beach wedding? A beautiful hair accessory. See the range of tiaras, headbands and hair clasps from White One and make your beach wedding look faultless from head to toe.