You spend hours on Instagram and Pinterest is your home page, but there are so many wedding dress looks out there how do you know which ones are on-trend?
Though not as pronounced as ready-to-wear, wedding dress trends react to changes in the fashion cycle, circumstances and new situations. And although your personal style should be your number-one priority when choosing THE ONE, fashion-forward brides might want to keep an eye on the trends too.
For those getting married in 2021, here are all the deets you need to know.
Simple Wedding Dresses Are On-Trend
In 2020 we became domestic goddesses and swapped pant suits for tracksuits. No wonder simple wedding dresses are trending for 2021. White One Essentials collection has minimalist dresses that can be transformed with the right bridal accessories, so you can glam up or down as you wish. For a sleek mermaid look, accessorise Arvensa with a stunning crystal belt or statement necklace. You can't go wrong with a chic and simple ballerina look. Wear flats or dainty heels with Mercury, add some vintage silk flowers to the sweetheart neckline, or top off with a stunning tiara.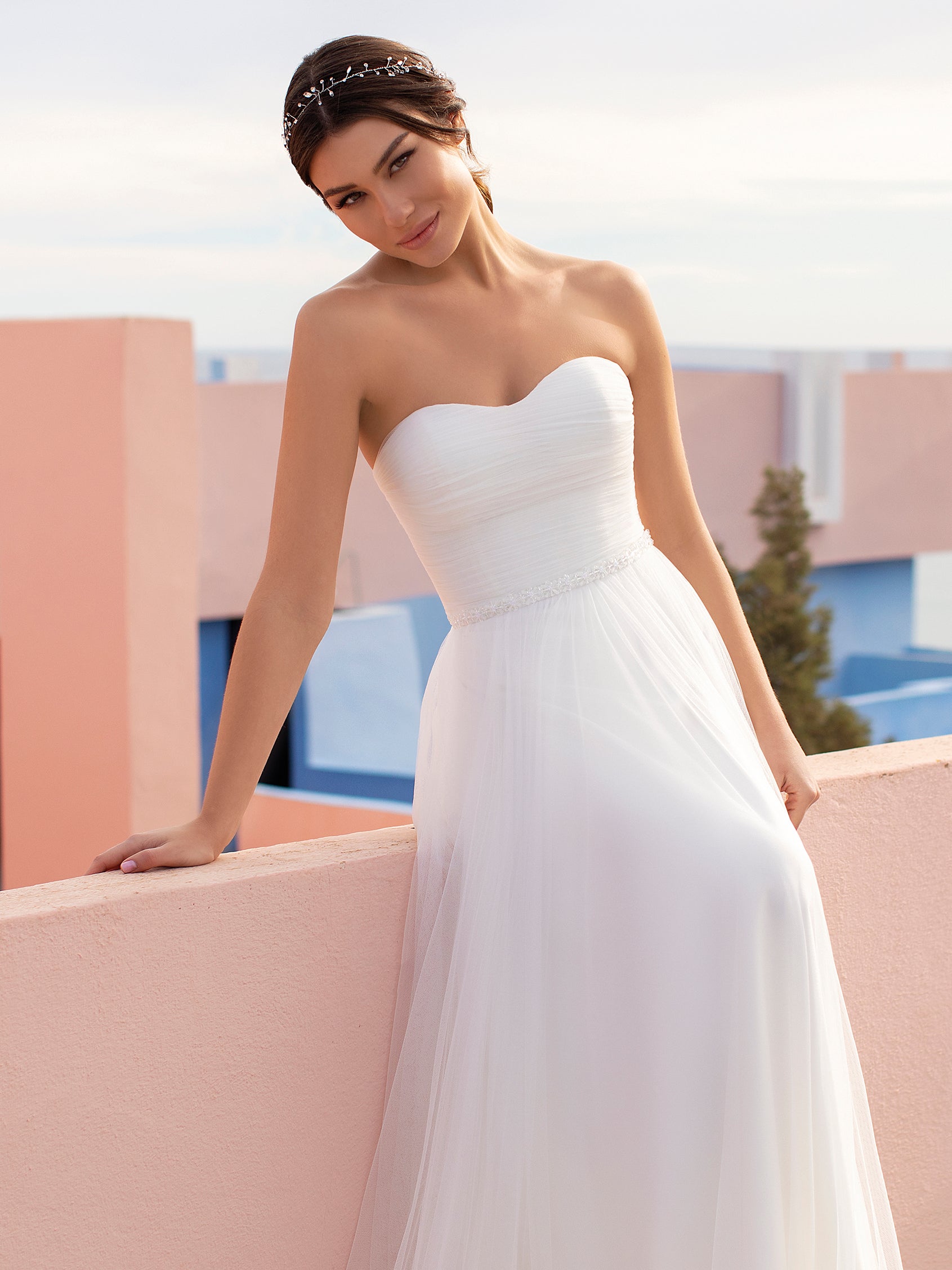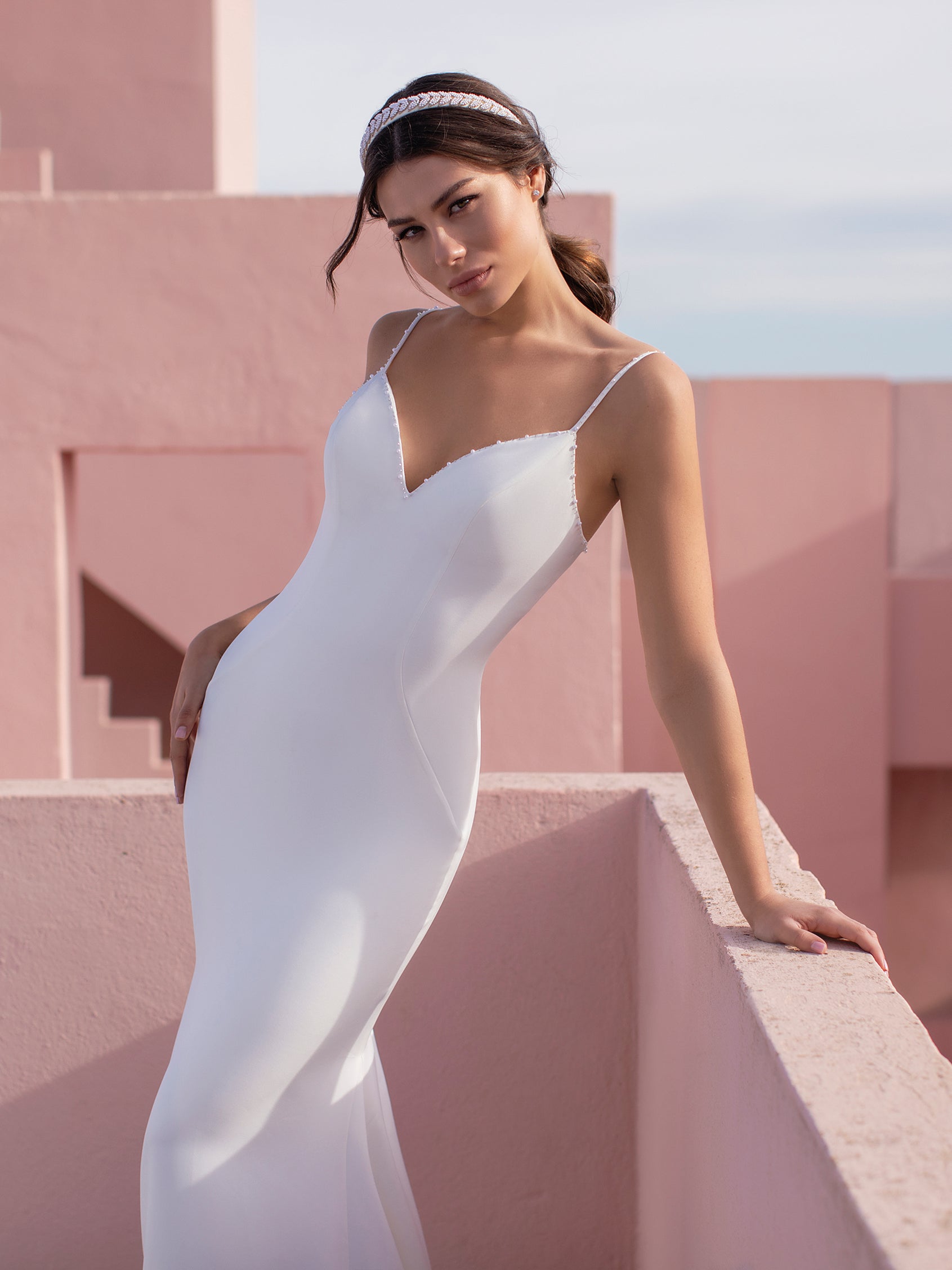 Corset Bodice Wedding Dress Are Back In 2021
Blame it on the current rush of costume dramas on Netflix, but the lingerie bodice is back in 2021. Both sexy and romantic, and gone are the days when wearing one meant hours of discomfort. New, flexible boning and high-tech support have done away with skin-piercing fasteners. We love Pallida for its oh-so-chic strapless corset bodice and haute couture silhouette. Heath takes the lingerie look to the max with a lace bodice that exposes the inner bones and is finished with divine old-fashioned row buttons on the plunge back.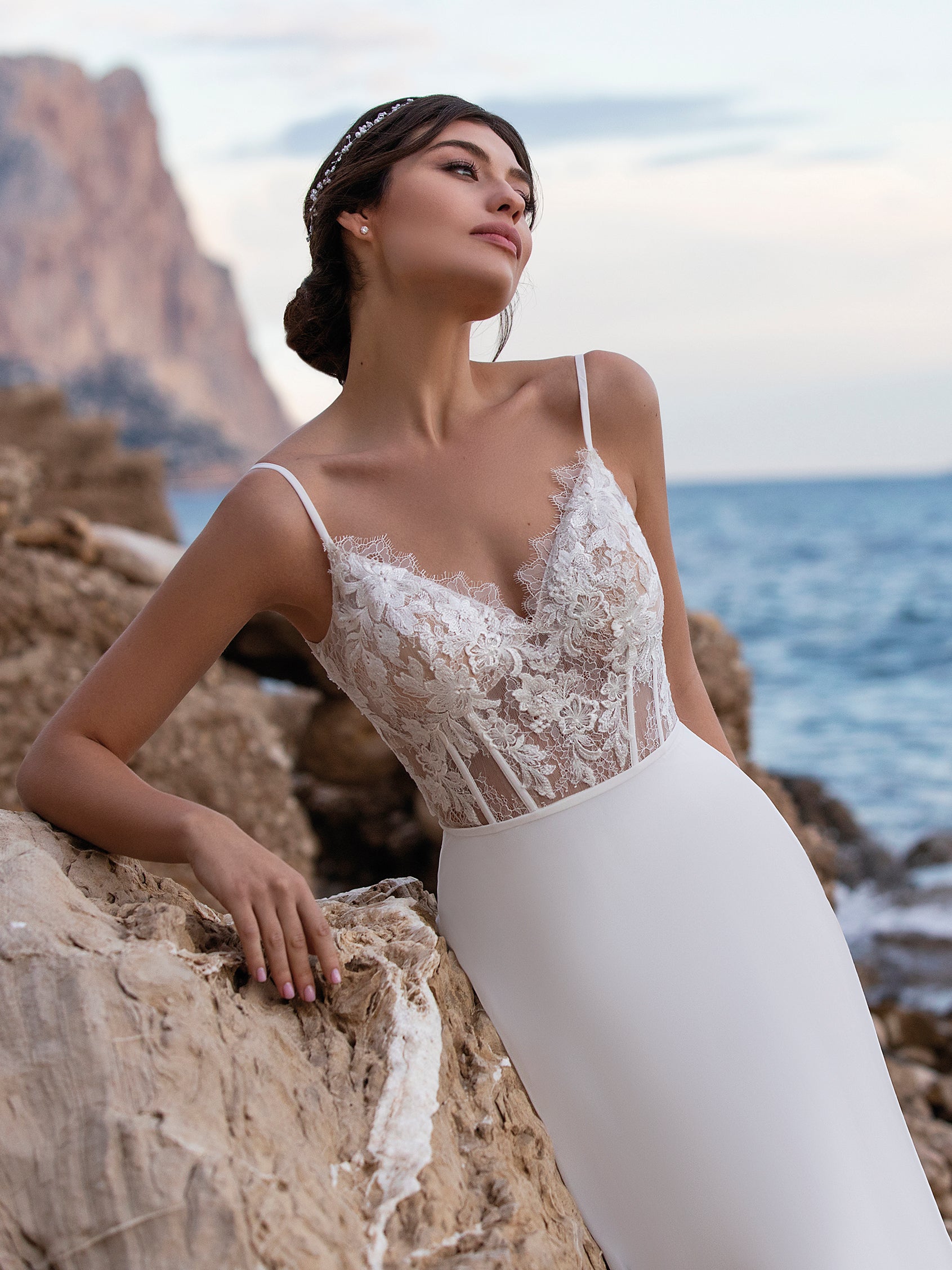 Pockets: A Practical Wedding Dress Trend
Who doesn't love a dress with pockets? On you wedding day, they could prove to be a lifesaver for safe keeping your lip-gloss, mobile phone and other little essentials. The full swishy skirts of Princess wedding dresses are perfect for accommodating deep side pockets. Everlasting expresses this informal elegance beautifully in glossy mikado with a perfect sweetheart neckline. Also in mikado, Bradury has an identical silhouette, but covers your arms and shoulders with a delicate lace yoke.
Long Sleeved Wedding Dresses
There are so many reasons brides might want to choose a long-sleeved wedding dress, we are surprised they have just started to be a wedding dress trend. The good news it that new fabric technology has made it possible to cover your arms and shoulders in stretchy lace or lightweight breathable fabrics, so no need to feel stitched up on your dream day. Romulea emits a romantic vintage feel in all-over lace with divine sleeve and shoulder detailing, while Sea constructs long, svelte arms in liquid crepe with lace inserts at the cuff.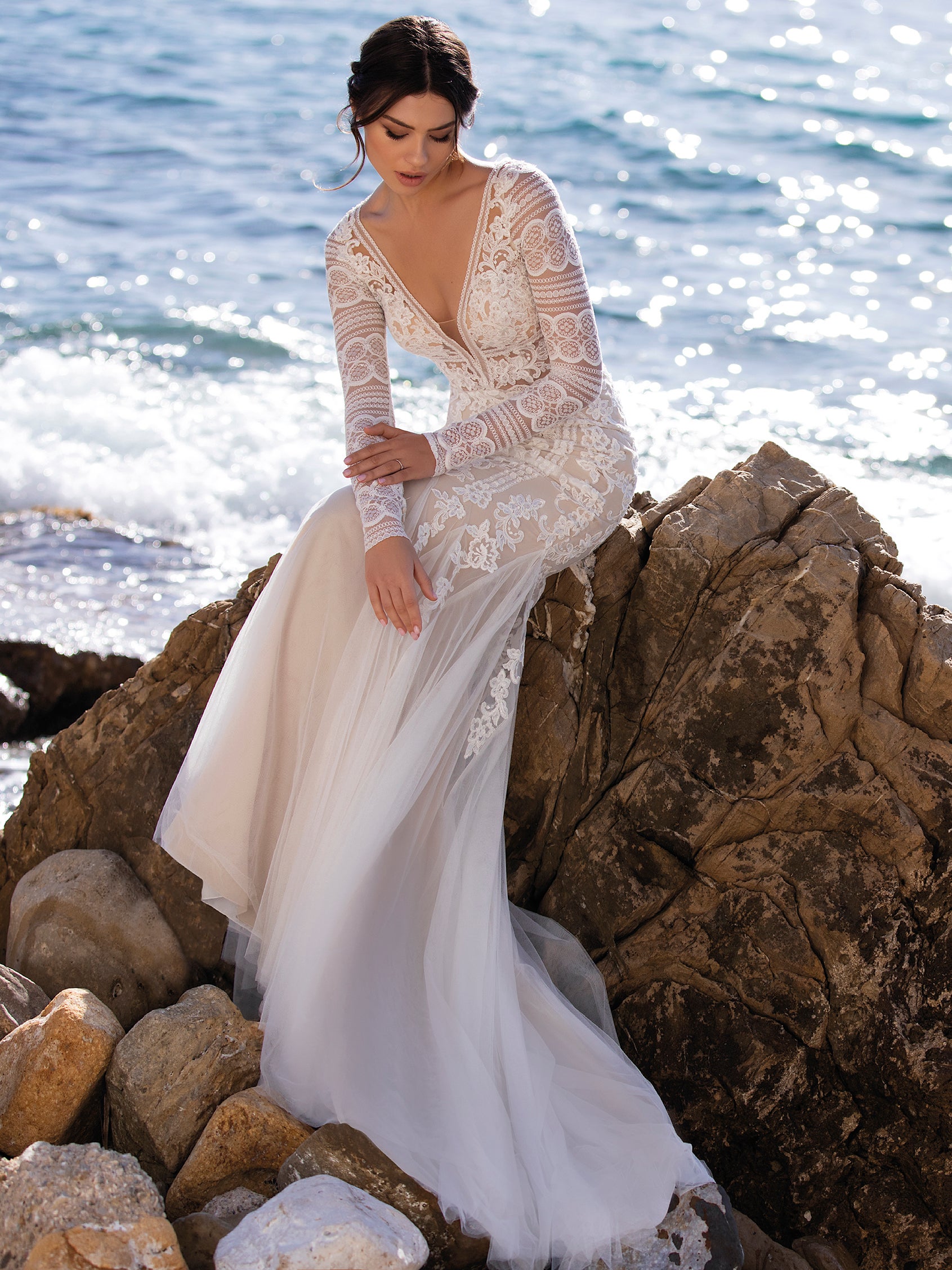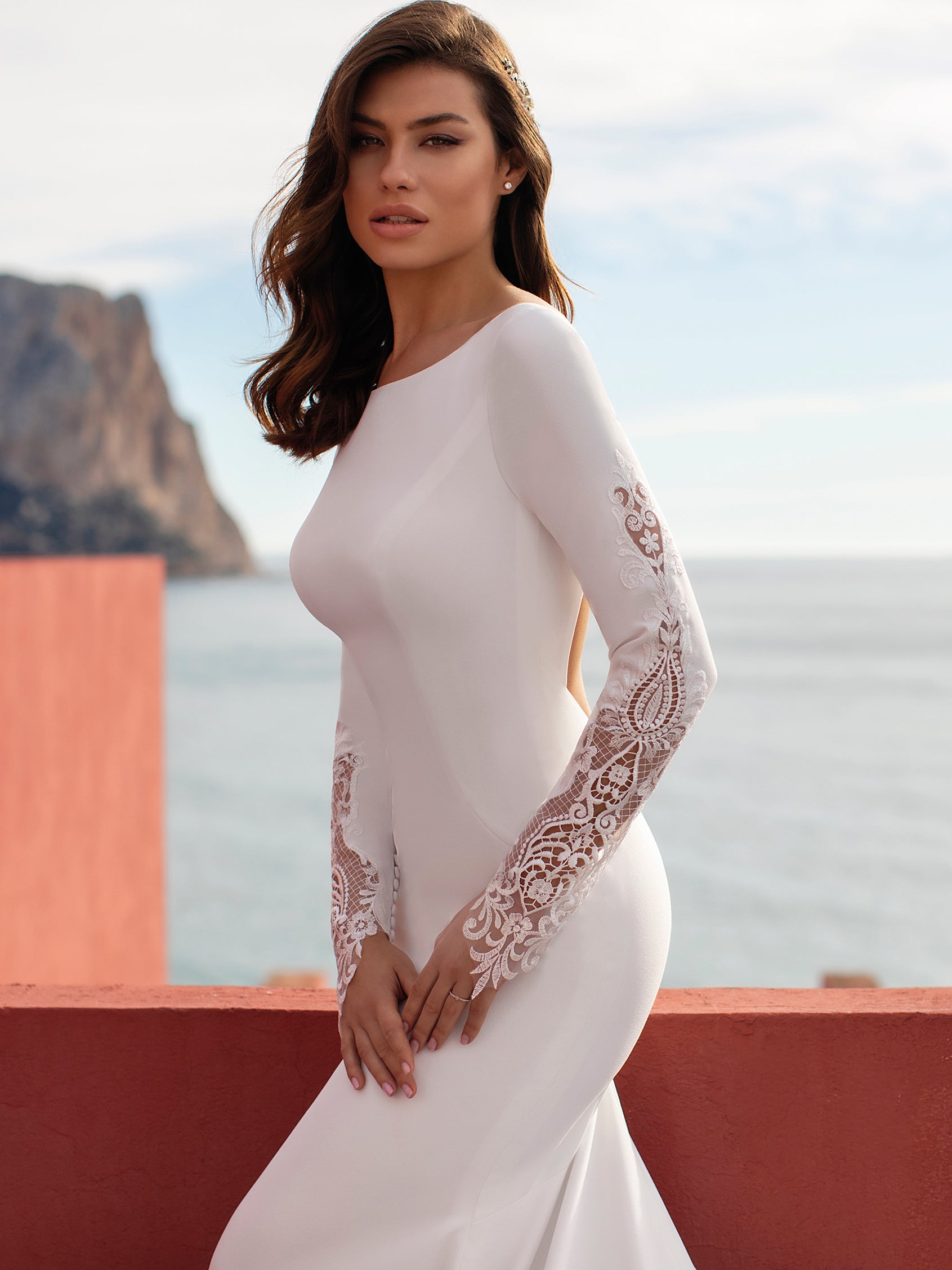 Eco-Friendly: Not A Wedding Dress Trend, But The Future.
You are a recycling maniac and your bicycle is your best friend. It's taken a while but sustainable fashion has hit the world of bridal too. White One is proud to be a pioneer with #WeDoEco, a range of fresh and gorgeous wedding dresses made with eco fabrics and processes. In store in 2021, they are for brides who care about the planet, and want a happy ever after as much as we do.
Still dreaming? View our New-In collection of delectable dresses and find THE ONE!